Wedding Package Special Offer!
We are very proud to launch our new website and to celebrate it we are offering Wedding Videos from just £800! This is a Limited Time Special Offer!

This extraordinary package offers what other wedding video specialists can provide for almost £1,800, plus!
The offer does not include travel, appropriate over-night accommodation and additional copies of your final video. Visit our dedicated website for more details

Tailor your own Wedding Video

Shooters Media have set aside a special unit of people dedicated to producing moving images of your special event. The team can capture many occasions from live gigs, corporate events, award ceremonies weddings and funerals.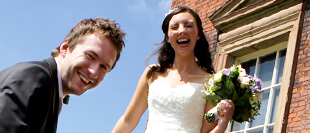 Our aim is to let you tailor your wedding video, feel free to discuss with us what you would like captured.

The options are not set in stone

so please get in touch with any questions or ideas you may have.
All prices include local travel, attending rehearsals, meeting with the couple and wedding co-ordinators. Prices also include editing, colour correction, stills, music and a DVD of your very special day!
Your special occasion is professionally filmed on HD1080i cameras, recorded with film industry standard sound equipment and edited with care with professional editing software.